A Systematic Literature Review on Leukemia Prediction Using Machine Learning
Keywords:
Leukemia, Machine Learning, Cancer, White Blood Cells
Abstract
Blood cancer is one of the most dangerous diseases in kids because it spreads throughout the body, damages healthy cells, and causes uncontrolled white blood cell growth. If it is not promptly treated, blood cancer can kill a person. Leukemia, commonly known as "White Blood Cancer," is the most common type of blood cancer and it has a devastating effect on many people. In essence, it develops in the marrow of bones. Uncontrolled white blood cell proliferation in leukemia harms the body and creates malignant cells. However, throughout the past few years, numerous computer-aided technologies have been employed to manage, identify, treat, and detect leukaemia. Many researchers presented algorithms, methods, and approaches to treat this disease, and after applying them with traditional dataset samples and some of their own created ones, they produced many positive outcomes. Because imaged data sets are utilized in medical examinations, big data plays a significant part in the data collecting for datasets. Large datasets produced positive results for machine learning algorithms such as convolutional neural networks, which are regarded as the best method for classifying images. Hematologic malignancies, which include blood-related diseases like anemia, are cancers that are connected to the blood. Leukemia and multiple myeloma, Hodgkin's lymphoma, non-Hodgkin's lymphoma and encompasses acute AML( Acute Myeloid leukemia ), ALL (Acute Lymphoblastic Leukemia), CML( Chronic Myeloid Leukemia ), and CLL(Chronic Lymphocytic Leukemia) and affect adolescents, young grownups and the aged, and their prevalence increases with age. The main objective of this research is to present a systematic literature review associated with survey questions on leukemia detection by using machine learning algorithms, techniques, and methods recently. In this study, we outline some past and present uses of machine learning in leukemia prediction, identify manual diagnostic issues, and then discuss the historical background of leukemia discovery. We have also covered leukemia recognition, research motivation, research limits, the composition of white blood cells, and leukemia detection techniques. In order to do our review methodically, the methodology was written with the classification of papers according to their quality.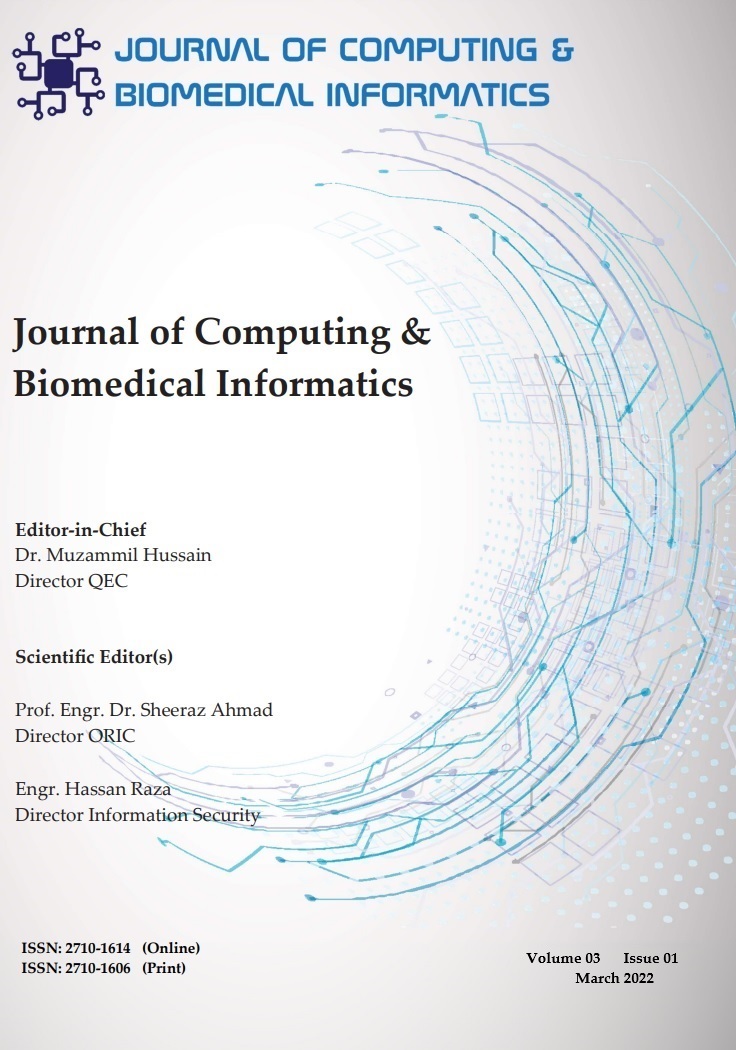 Downloads
How to Cite
Saroosh Malik, Arslan Iftikhar, Faheem Haider Tauqeer, Muhammad Adil, & Sheeraz Ahmed. (2022). A Systematic Literature Review on Leukemia Prediction Using Machine Learning. Journal of Computing & Biomedical Informatics, 3(02), 104–123. https://doi.org/10.56979/302/2022/73
License
This work is licensed under a Creative Commons Attribution 4.0 International License.
This is an open Access Article published by Research Center of Computing & Biomedical Informatics (RCBI), Lahore, Pakistan under CCBY 4.0 International License