Neural Network-Based Prediction of Potential Ribonucleic Acid Aptamers to Target Protein
Keywords:
Neural Network, Aptamers, Ribonucleic Acid Aptamers
Abstract
Aptamers are short strands of nucleic acid with a single strand that may unite to target a certain molecule in a selective and specific manner. SELEX experiments are the typical method used for identifying aptamers in vitro (systematic evolution of ligands by exponential enrichment). Several different computational methods have been developed to locate aptamers. The purpose of this research is to identify and make predictions on the possible RNA aptamers that may be used to target the protein. To do this, we propose the use of a multi-layer perceptron neural network with sixteen layers that are trained to locate possible aptamers of a protein target. This network is trained by extracting the main properties of RNA sequences. The outcome of our proposed model is compared to the output of two well-known machine learning classifiers, namely random forest (RF) and support vector machine (SVM). Additionally, we undertake the independent testing of our model on the benchmark dataset, which allows us to reach the highest accuracy possible. As a consequence of this, our model obtains an accuracy of 98.44% and an MCC of 0.9123 during the 15-fold cross-validation, and it achieves an accuracy of 98.10% and an MCC of 0.9354 when the leave-one-out cross-validation is performed. We are certain that our approach will contribute to a reduction in the amount of money and time spent on in vitro testing. Therefore, restricting the length of the initial pool of potential nucleic acid pattern combinations.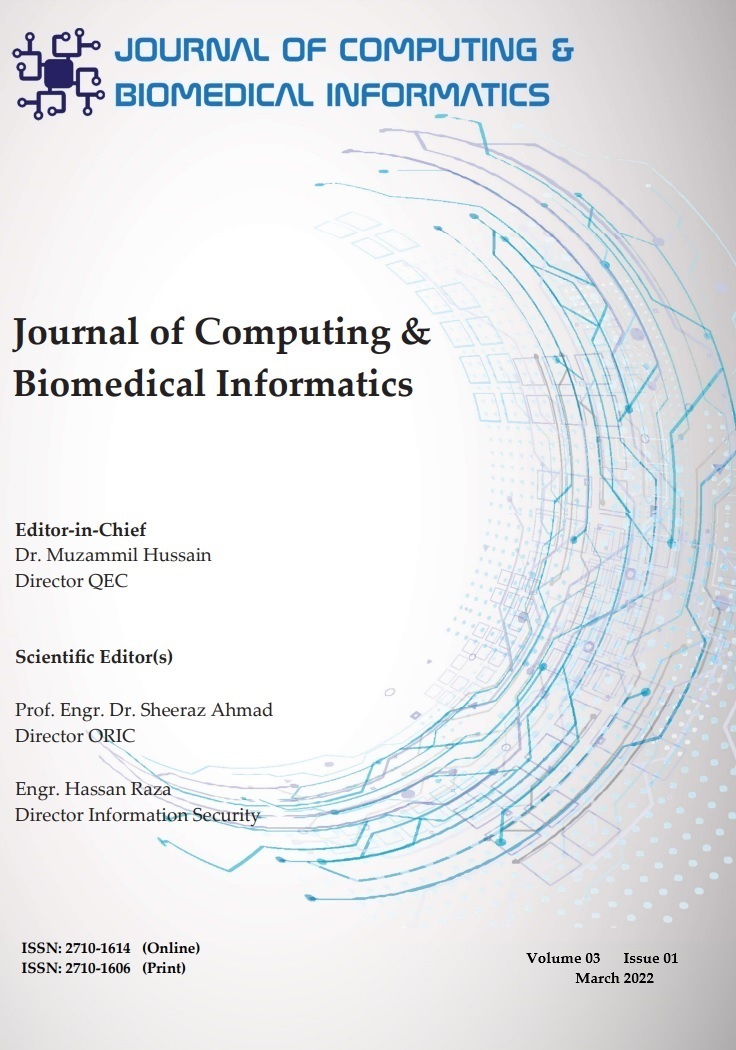 Downloads
How to Cite
Muhammad Azhar Mahmood, Hassaan Malik, Ali Haider Khan, Muhammad Adnan, & Muhammad Imran Ali Khan. (2022). Neural Network-Based Prediction of Potential Ribonucleic Acid Aptamers to Target Protein. Journal of Computing & Biomedical Informatics, 4(01), 21–36. https://doi.org/10.56979/401/2022/95
License
This is an open Access Article published by Research Center of Computing & Biomedical Informatics (RCBI), Lahore, Pakistan under CCBY 4.0 International License